Every so often I'll get asked if Times Square is as amazing as people think it is. From people who have visited once or twice (myself included) I hear "It's incredible, one of my favourite parts of the city". And from a New Yorker? Without hesitation I hear "Its awful, I avoid it at all costs". Friends and family back home have said "You must visit there all the time?!" and if I'm completely honest, in the near 8 months I've lived here, Times Square is part of New York that I have visited the least, and trust me - I'm okay with that! Before I moved here, Times Square summed up everything I thought I was free-falling towards…bright lights, bustling buzzing spaces, overbearing billboards filled with recognisable faces and musical theatre posters on every building. It was my stagey-musical-theatre-nerdy-18-year-old dream! Its strange, now, to go to Times Square with friends who are visiting, see the excitement on their faces, and have no connection to that feeling anymore.
I visited New York twice before moving here. The first time I visited was with the rest of the Neville clan. After my parents had visited numerous times with friends, they had promised to take an eager young Luke to NYC for his 16th birthday. It was the trip of a lifetime! We stayed at the Hotel Giraffe on 26th and Park Avenue, which is strange when I think about the fact I live only 4 blocks away from it. On this trip, the first time I saw Times Square was incredible. I was completely taken aback by how different this world was from the one back at home. I was looking at everyone passing by me wondering where were they going? What did they do for a living? Could I one day live here? I found a picture of myself 6 years ago at the age of 16 in the middle of Times Square. Safe to say I was enjoying myself…
The second time I visited New York was the last time I would visit as a tourist. Of course I didn't know this at the time but it was the trip in which I based my decision to take the plunge and move here. I think it had something to do with the fact I had been before. My desire to see all the 'go-to' sights in NYC had vanished from my previous trip, which meant this trip left me hungry to get a sense of what it was like to live in the city. I wanted to explore.
We were staying in the Hotel Pennsylvania, not too far from TS. I remember the night that we arrived my course leader Carly decided we should all head straight to TS so everyone can get pictures and do a spot of shopping. It was pouring down with rain, and when it rains here - it POURS. I was being a 'know-it-all' 18 year old pointing out the directions of box offices and Forever 21's - I was so excited to be back, and of course to see some Broadway Theatre!
I saw 5 shows that trip; Les Miserables, If/Then, Wicked, Of Mice & Men and Newsies. The "theatre-bug" bit me harder than ever this trip. My love for the buzz of Times Square turned into a love of the Broadway theatres that lie in the streets surrounding it. I'll never forget how much fun it was to run around the Theatre District with my musical theatre classmates, a memory that still brings a smile to my face when I find myself there now.
So what is so wrong with Times Square now that I live here? From a number of people I hear that they dislike the hectic sidewalks, "selfie"-stopping tourists, guys trying to sell comedy show tickets (and/or their rap albums) and even the huge commercial advertising screens. These are all reasons I don't go there and in the 8 months I've lived here I have seen a big change in the environment. The huge "Toys-R-Us" store with the Ferris-Wheel inside has now been knocked down, leaving instead a huge construction site. They completed one set of road refurbishments and have now started more, further down, causing both pedestrian and vehicle traffic. The number of people now selling comedy show tickets, or their rap albums (aggressively I may add) seems to have tripled in the past couple of months. The pace of the environment means it's impossible to nip/pass through Times Square, meaning the fast-paced New Yorkers would much rather use 9th or 6th Avenue on either side. The list of reasons to avoid Times Square is growing the longer I live here. One of the main reasons I avoid it is the ever-growing presence of "dressed-up characters". If you have seen "The Unbreakable Kimmy Schmidt" on Netflix, Tituss in Series 1 is "Iron Man" in Times Square to score some cash, and this is a common thing now. There are "characters" EVERYWHERE, boss-eyed "Mickey Mouse", "SpiderMan" wearing a pair of trainers, the 60-something year old Naked Cowgirl, numerous "Elsa's" & "Olafs", an aggressive "Elmo"- I mean the list really is endless. Anyone who knows me knows that I love characters, I could spend days in Disney World or Universal Studios meeting all the characters but these Times Square versions are TERRIFYING. I mean look!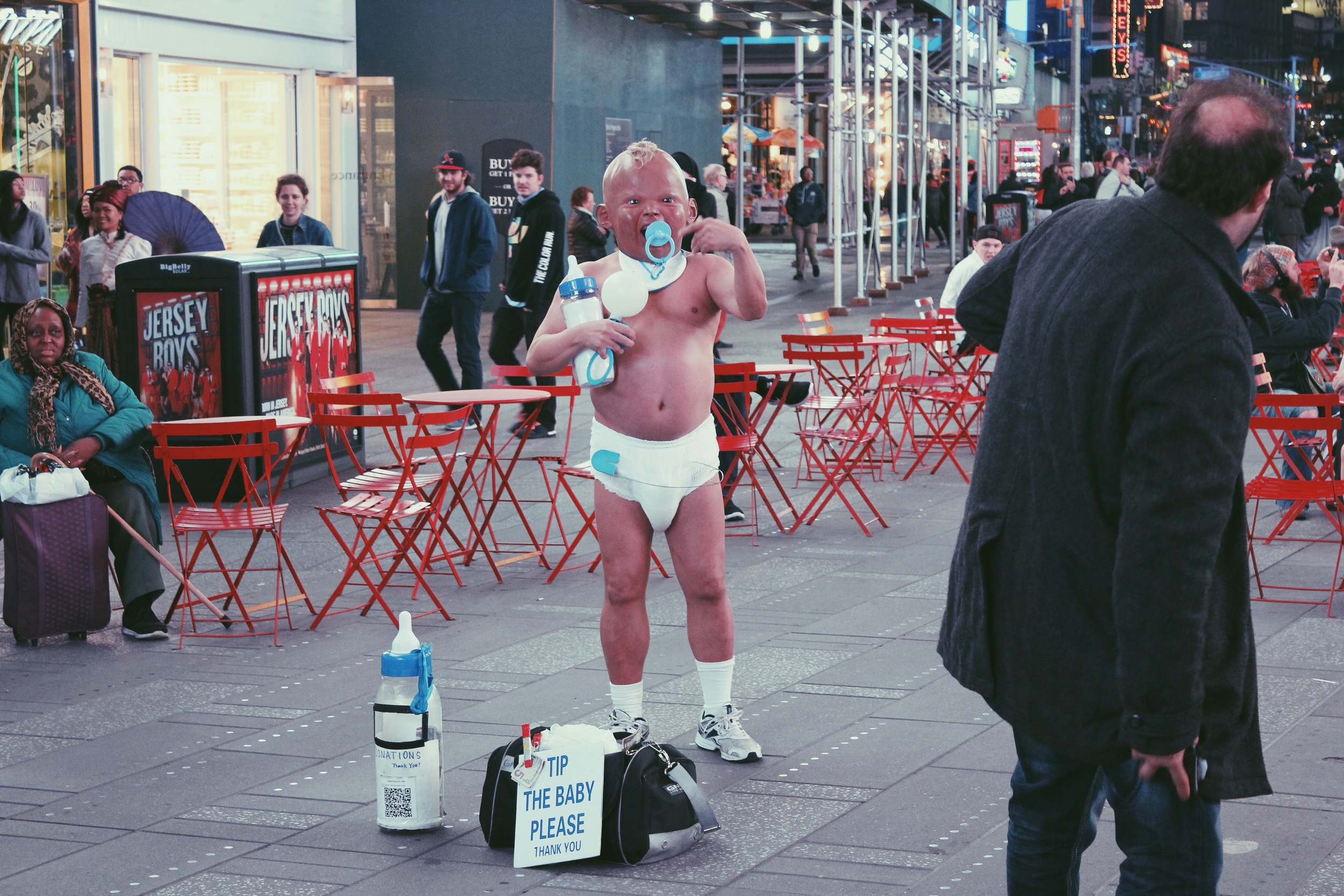 My love for New York exists in other places now. I love finding a new street lined with restaurants, boutiques and brunch-places. I love finding small/quirky coffee shops with comfy chairs that I can spend my weekends with a friend. My love for New York literally changes every weekend. Right now as I type up this blog post, on a dreary Saturday afternoon, in Birch Coffee, I can't help but feel content. Little did I know my love for NYC would be in places like this?
Its funny I should write this blog during this weekend, as I have in fact visited Times Square twice this week, with two separate visitors. I could feel their excitement and I was reminded of the times I had visited before, but now, 8 months in, I could not wait to get out and show them more of the city!
What do you think of Times Square? Share your experience in the comments below!
Happy Sunday!
Check back here for the latest NevNYC post on Sundays and Wednesdays at 12PM. Be sure to like this post if you enjoyed it and feel free to contact me via my "Contact" page/form if there is anything you'd love to see on here!