As someone who has always appreciated fashion and the latest trends from a distance with neither the funds nor the resources to exude them, I was thrilled to be asked to take part in a competition for a high end boutique such as FarFetch, without having to break the bank!

FarFetch have recently teamed up with Apple Music and in honour of this collaboration are running a competition throughout many amazing bloggers for the chance to win money for their online boutique. Now if you're someone like me who can spend hours trailing through online stores, placing things in baskets and dreaming of the ideal wardrobe, FarFetch is the PERFECT website to do this. Combining high end distinguished brands with boutique luxury fashion, FarFetch allows you to see latest collections on one, full, chic layout.

To celebrate the collaboration with Apple Music and neo soul artist Maxwell they shot a film and editorial feature, and they're asking bloggers to use their OWN wardrobes to replicate and put their own spin on one of 6 spotlight artists; Kanye West, Maxwell, Harry Styles, Rihanna, Pharrell Williams and Gwen Stefani. I chose to re-do/replicate this double denim look that Rihanna did last year: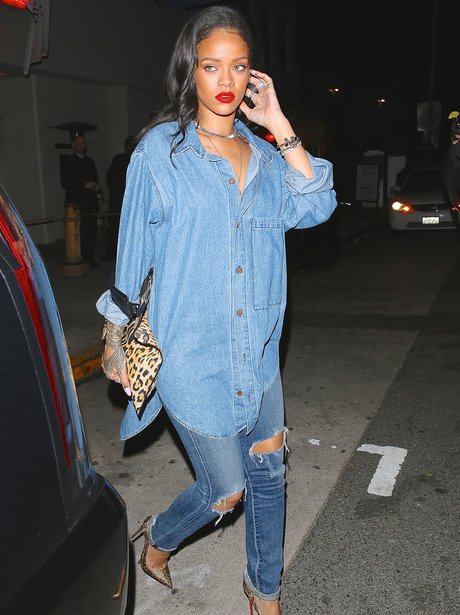 I feel like this is the perfect unisex look that can be both smart and casual, day and night, so thought this would be the most perfect look to embody. My style is something I pay attention to but at the same time it rarely reaches into the complexity that can be keeping up with current trends. I find myself drawn to creatively cut basics, oversized button-ups and t-shirts paired with boots/shoes.
The Ralph Lauren shirt I thrifted from Beacons Closet when I arrived here in New York. For age's I'd been looking for an oversized denim shirt that I could wear both casually during the day or that could smarten up for an evening look. I wear it, all. the. time.

The clutch/pouch I actually bought fairly recently from Sam Edelman, and I got a really great deal in the sales. I don't use this as my day bag, but it usually goes inside my day bag holding various bits and bobs. I had an idea for an Everyday Essentials blog post on what I hold inside day-to-day. But what I love about the pouch is that it doubles as a bag for evening wear. I am someone who has always carried around a huge wallet or found it useful to carry various things with me on a night out so this pouch is perfect for carrying an appropriate amount of stuff in it for me throughout the course of the evening. As well as its amazing feather design, enabling a great bit of fun to an outfit.
My watch is from Timex and was gifted to me back in 2014 from a friend. I wear it everyday. In more recent years I have found I can't go anywhere without my watch on. This is the second watch I have owned in my lifetime, one is an Armani watch gifted to me by my Grandfather for my 18th birthday, which I wear on special occasions. And this Timex watch that I wear day-to-day. I've found that I quite like a gold watch to round out an outfit, but I think it's because I'm so used to wearing it now. It doesn't feel flimsy or cheap and I have found that it is much more durable that an old Casio that I used to wear.
The shoes were given to me by Gino after he found they were too big for him yet a good fit for me. They are Emporio Armani's and are so great for the summer months, not only making me look more tanned but the perfect smart/casual slip on that can be worn all day. I couldn't find them online but Armani continue to release pumps such as these.
Of course there was no better way to round out a photoshoot than a big slice of NYC pizza!! I had so so much fun shooting this look for FarFetch X Apple Music. We went down to one of my favorite areas just before dusk set over the city and got such gorgeous shots. When FarFetch shot Maxwell they created an awesome playlist that they played during the photoshoot that you can listen to here!
I am such an advocate for Apple Music as a member myself. A service that my iPhone already had installed and with a 3 month free trial I was won over when I was able to see how much I used it before purchasing the $9.99 a month subscription.
You can check out all my latest faves from FarFetch in the NevNYC wishlist in the sidebar right here ---------------------------------------------->

HAPPY MONDAY EVERYBODY!

Check back every week for the latest NevNYC posts. If you liked this blog be sure to like, comment and share!

More links:
Instagram: @lukenev
Twitter: @NevNYC
Snapchat: @lukeenev
Facebook: NevNYC